Sept. 10, 2021
Vaccine Approval
This quick survey was requested by Employers Network, with participation from their members as well as WCI members. Employers throughout both regions are asking common questions as a result of the FDA's approval of the Pfizer vaccine and whether this changes anything. Here's what we learned.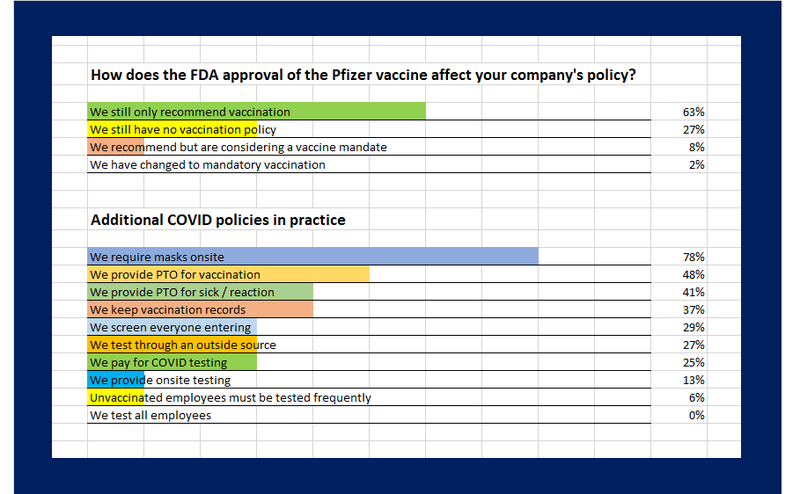 Overall, 90% of employers have not changed their vaccination policy, nor are they considering it at this point. While only 2% have mandated vaccination, another 8% are considering a mandate.
Regarding exposure levels for their employees, 68% have exposures to coworkers, 54% have minimal exposures, 33% have moderate public exposures, and 5% have high public exposures.
The only additional COVID policy being practiced by a majority of employers is mandatory mask-wearing (78%). The graph shows other policies being practiced by less than half of these employers. In addition to these, one company has simply restarted temperature checking, recommending masks, and continuing to emphasize greater sanitation.
Here are some other comments provided:
Paid sick leave benefits voluntarily provided under ARPA until September 30
Considering requiring unvaccinated workers be tested at their own expense
Allowing unpaid time off for vaccination and sick / quarantine time off
Cleaning high touch surfaces at the beginning of every shift
Distancing in meeting and break rooms
Allowing employees to opt-out of mask wearing with proof of vaccination
Pay per OSHA ETS for employees who interact with patients
For a more detailed and legal perspective on workplace vaccination policies, see our post "The New Employee Status: Vaccinated or Unvaccinated".